The Walking Dead Season 11 So Far…
Another 'So Far' segment and today it's all about season 11 of The Walking Dead (2010-2022).
This post comes three episodes into season 11 and so far I am very impressed. Even though we've barely got going, I do believe this season has potential to be one of the show's very best.
Coming off the back of The Whisperer war and Alpha's death, the communities struggle to recover as Alexandria is in ruins and a famine is on the rise. As a result, the survivors go on a perilous supply run – a thrilling aspect that helped make the show so iconic. This revival of precarious adventures and the showrunners' obsession with shining light on new locations and newly dishevelled walkers is simply delightful for us fans.
The show is rekindling what made it so great in the past which leads me on to the tense, gripping atmosphere of season 11. From the opening scene of 'Acheron: Part 1' we see Maggie, Daryl, and a group of survivors tip-toeing around sleeping walkers, yes, 'sleeping walkers', searching for food. The tension is created by the sheer volume of walkers and eventually they are awoken, and brutal battle ensues.
Back In Action
As mentioned, we see Maggie – played by the wonderful Lauren Cohan – back in action following her return in season 10B. She assumes a leadership position with her group including Negan (Jeffrey Dean Morgan), who proved an asset during her six year leave. Despite this, wounds are still fresh and her hatred towards him remains strong. It's by no surprise then that Negan chooses to leave her for dead, a scene vaguely similar to Glenn's 'fake death' in season six, as walkers close in on her. As expected, she survives by the skin of her teeth and typical gritty wit.
This supply run fiasco is contrasted by The Commonwealth storyline which was left on a cliff-hanger last season. We join Ezekiel, Yumiko, Eugene, and Princess who are being processed through the gruelling system of The Commonwealth to determine their usefulness based. This shows us how structured and strict this community or corporation is which may provide a massive refuge and resource for the survivors.
Over the course of the first three episodes, we get to know more about these four characters and their lives before The Fall. Thus, after much ado and Eugene's begging to see his mystery woman the survivors pass their grilling stage and meet Stephanie. For me, this storyline has been the most ambiguous for a few seasons and I know The Commonwealth play a part in the comics, so I'd predict they'll have a major role this season in determining the fate of our beloved characters – they appear to possess many supplies and their soldiers, who I still mistake for Stormtroopers, provide hope in artillery and weapons.
The third storyline revolves around Carol, Aaron, Rosita, who work hard to garner immediate supplies in the communities while waiting for the others. They resort to slaughtering and eating horse meat and even though this is the least entertaining storyline we see the desperation and famine in full effect making us yearn for the others to return from their supply run.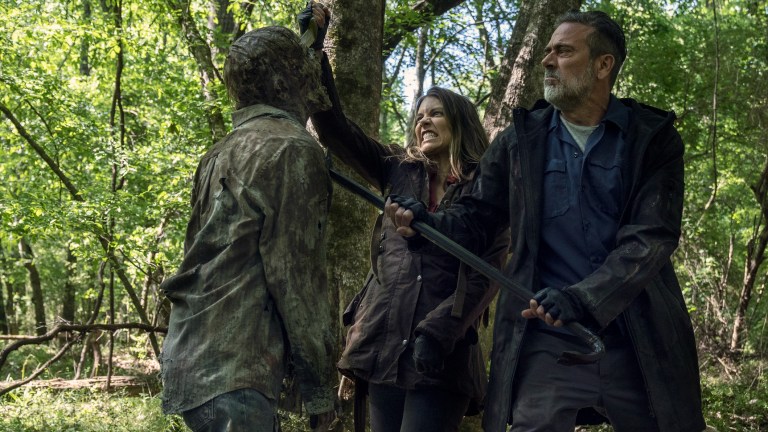 The Reapers
Back to the major action with Maggie and co, we see them confronted near a forest by The Reapers – a savage, ruthless pack of survivors we had a taste of back in season 10. They terrorise our beloved team with their menacing weapons and frightening attire and slice apart a few unlucky souls bar the protagonists who are injured at worst. A typically intense, gruesome skirmish takes place as Maggie is almost killed and Gabriel is stabbed in the leg. The mayhem separates the group who disperse into the forest with Maggie, Negan, and a heavily injured Alden. When Alden admits that he's 'deadweight' he is left behind as Negan and Maggie remain – a jarring duo.
The way the writers have engineered this situation, where these two must depend on each other is a massive step in the character arc of each person and makes for a truly riveting story I cannot wait to witness. Overall, I really look forward to the rest of this season. I am gripped off the bat and that's a feeling I haven't felt for a long time with The Walking Dead. It's a bittersweet occasion as the show seems to be heading towards some of its juiciest but final plot points. Nevertheless, I have a renewed faith that the show will conclude in grand fashion.
I know it's pretty early but, so far, I'd rate season 11 a 9/10.